Bohemian crystal glass is known all over the world and since the 16th century it has been produced mainly in northern and western Bohemia. Find out more information about Bohemia Crysta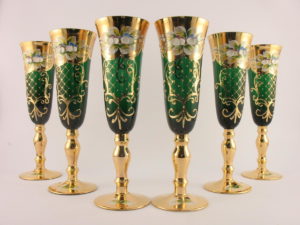 Bohemia Cristal surprises with an incredibly wide range of products. Bohemia Cristal stemmed glasses are made of high quality glass, mainly with a high content of lead oxide — hence the name «lead crystal». A Bohemian crystal must contain at least 24% lead oxide to be eligible to bear this name.
Lead crystal is a mixture of quartz sand, potash and red lead and is synonymous with high quality jewelry, decorative or everyday items.
Lead crystal — unlike common silicate glass such as windows, bottles or drinking vessels — is a mixture of quartz sand, potash and red lead (Pb3O4) and is synonymous with high quality jewelry, decorative or everyday items. Examples are rhinestones, chandeliers, champagne and wine glasses, decanters, and more.
Classic pieces are blown, hand-sanded with stone discs and finally polished in hydrofluoric acid. This process gives real quality. Modern industrial products, including patterns, are machine pressed — not sanded, of course — and polished. Eroded and mechanized craftsmanship.
The hand-cut lead crystal comes from the Bohemian Forest and the Ore Mountains.
The home of hand-cut lead crystal is Central Europe: the Bohemian Forest in the Czech Republic and Bavaria, as well as the Czech and Polish Ore Mountains. Until the end of the 20th century, the main traditional producers were based here. After the "fracture" of the Eastern Bloc, many of the former "big ones" disappeared. Today it is a group of specialists (blowers, grinders, polishers) who continue the tradition of this art.
Glass was produced in Bohemia as early as the Middle Ages. With the invention of lead crystal, this craft became so developed that the Bohemian school of glass processing gained worldwide fame more than 150 years ago.
Since the time of the Austro-Hungarian monarchy, its products have adorned the palaces and houses of the nobility, the bourgeoisie and the nobility. Despite all the fashion trends, the classic cut lead crystal has remained a real treasure. The cut edges, the silver shine of the polished surfaces, the precision of the ornaments — such items can only be made by people, not machines. Several elements are responsible for the quality of the parts: raw glass with a lead content of 24%, the high school of craftsmen with their keen eyes, firm hands and their artistic understanding of the uniqueness of the final product. But knowing the right choice of conventional abrasives (stone discs) and blown blanks is also crucial.